The 15" Touch screen description
15 inch Pcap touch screen with controller board,superior touch performance,super anti-interference ability.What's more, our touch screen have a optional ILITEK controller board and EETI controller board,you can choose suitable one for your project.If you need cost effective solution ,and then you can choose ILITEK controller board. If your application of the product is very strict to the surrounding anti-interference environment, or needs to be touched with thick gloves, or the requirements for touching with water are also very strict, then we recommend you to use the EETI solution.So whether you choose which one solution,we all can do it.It's depend on your idea. It also can support USB/I2C/RS232 interface. If your operating systems is windows,it's free driver.If it's Android or Linux operating system.Of course,we wouldn't just leave you the touchscreen specification and with a "good luck". If you want to download the driver, please contact with our sales department: sales@szdingtouch.com
The specification of 15 inch Touch screen:
| | |
| --- | --- |
| Manufacturer | Dingtouch |
| Product Name | 15 inch touch screen panel |
| Part Number | DT |
| Structure | Cover glass+Sensor glass |
| Interface | I2C/USB/RS232 |
| Cover lens outline dimension | 344x268mm |
| Cover lens Viewing dimension | 304x228mm |
| Sensor outline dimension | 317x243mm |
| Sensor Active area | 308x232mm |
| Cover lens thickness | 1.1 mm |
| Sensor glass thickness | 0.7mm |
| Total touch screen thickness | 2.05 mm |
| Controller | ILITEK 2511controller board |
| Touch points | 10 |
| Working voltage | USB: 5V |
| Light transmittance | ≥85% |
| Hardness | 6H |
| Working Temperature | -20℃~ +70℃ |
| Working Humidity | 0% to 90% |
| Storage Temperature | -20℃ ~ +80℃ |
| Storage Humidity | 0% to 90% |
| Without individual tolerance | ± 0.2mm |
| Operating system | Windows , Android,Linux OS |
| Warranty | 12months |
| Business trade items | EXW |
| Customized | Water resistance ,Gloves touch/AG/AF/OEM LOGO and so on |
The picture of 15 inch capacitive touch screen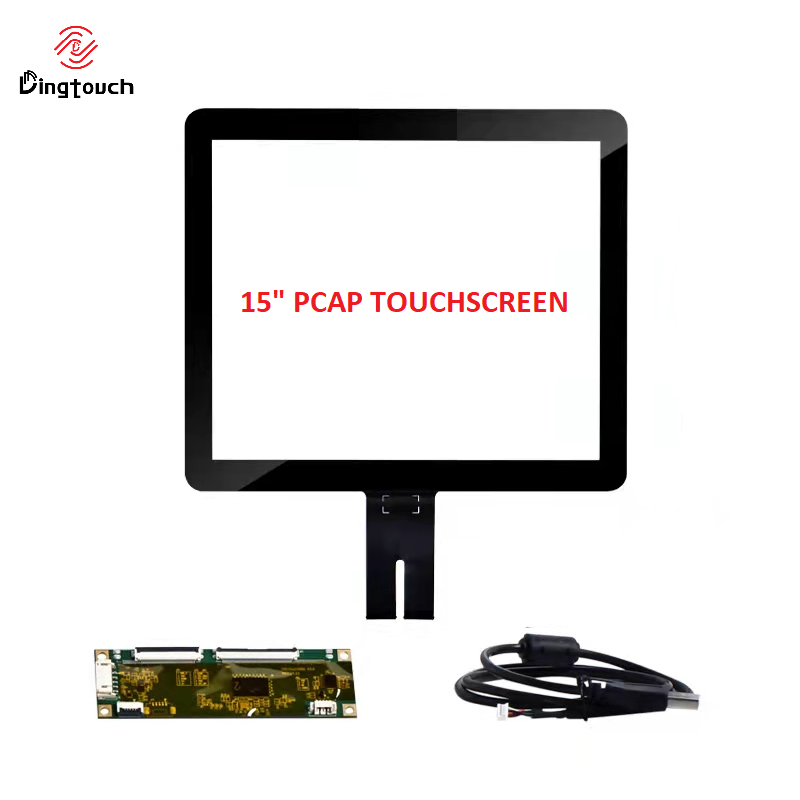 We are highly accepted to customized your Touch screen!
1.For structure of touch screen panel we can do Glass+Glass, Glass+film+film, or PMMA +glass, PMMA glass+film+film.Generally, most of many customer will chose cover glass+sensor glass structure,because it's very one common structure for small size touchscreen. There are a lot of apply in smart home,handle device,pos machine and so on.Because its price will cheaper than Glass+film+film structure.But some of customer will want to cover glass and also request thinner thickness of total cover glass, and then we will recommend the cover glass+film+film structure.Like some of the handle medical device, they need to be easy to carried when in an emergency condition.so customer will request to do the thinner thickness of the touch panel, and then we will recommend them to choose cover glass+film+film structure for touch screen.However,some customer want to do the PMMA cover lens,because their application need the cover lens not to break easily.They will do the PMMA cover lens+sensor glass. And for the same reason.If you really have strict request of thickness of total touch screen panel, and then the PMMA+film+film structure is your best choice.Anyway, you need to choose the best structure for your project according to your detail application.If you are very confuse,please contact with us directly sales@szdingtouch.com we will according to your demand to give you a suitable and professional structure.
2.About the thickness ,we all can according to your demand to do it
Cover glass: 0.55,0.7,1.1,1.8,2,3,4,5,6mm
Sensor: 0.425,0.55,0.7,1.1,1.8,2,3,4,5,6mm
3.OEM cover glass shape,customized LOGO, silk printing color,make transparent hole,real hole and so on.
4.Fuction : Anti glare, Anti reflection,Anti finger,Waterproof touch,Gloves touch and so on.
5.Interface: I2C,USB,RS232 Interface available
6.Solution: Chip on the flexible cable, Chip on the controller board solution available.
7.Chip: ILITEK,EETI,GOODIX,FOCALTECH,SILEAD touch controller and so on
Our touchscreen factory:
Shenzhen Dingtouch Eletronics Technology Co.,Ltd. is as a professional manufacturer that have more than 10 years+ touch screen experience and exporter by supply Pcap capacitive touch screen, touch sensor glass, touch film and touch display and so on.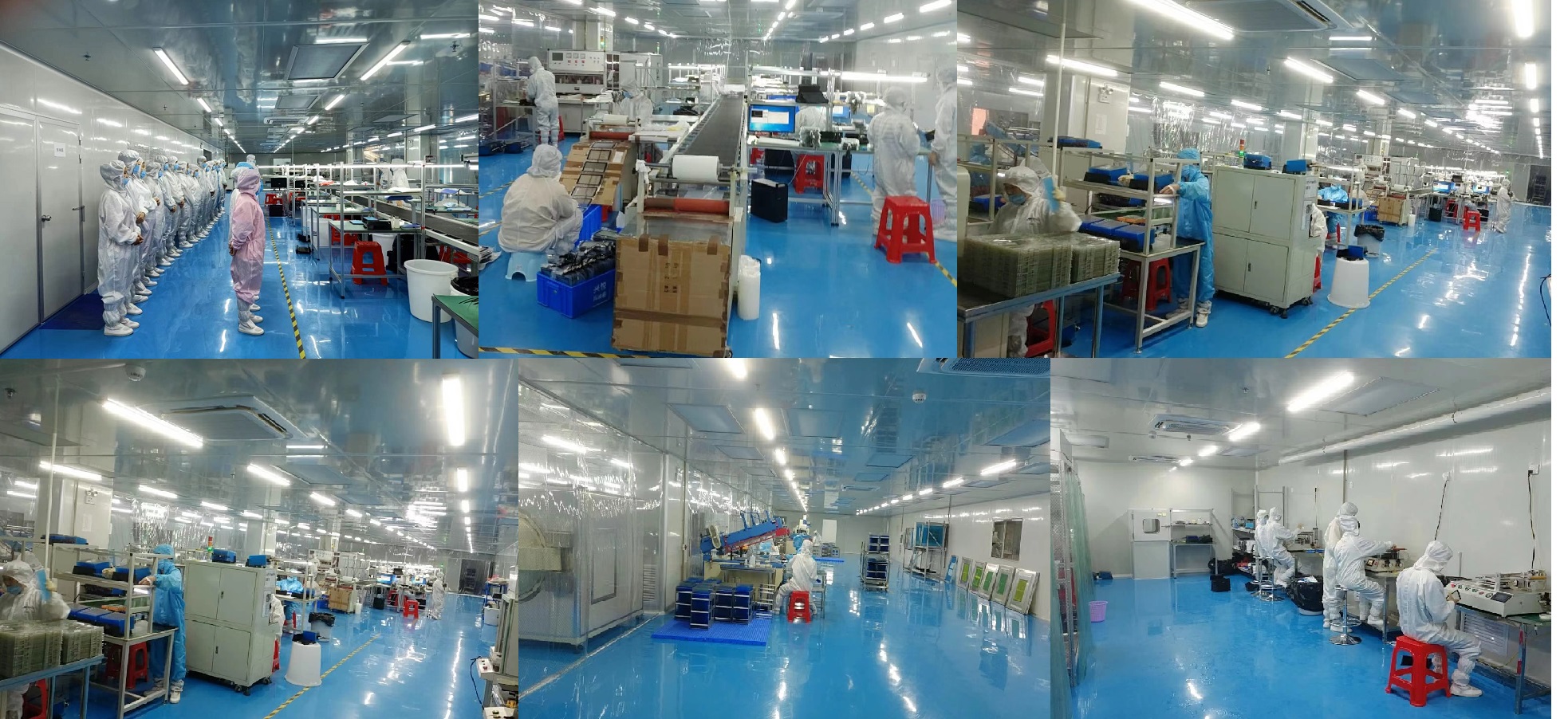 We can do up to 65" PCAP capacitive touch screen,sensor glass, sensor film product.Our biggest advantage is do sensor glass/sensor film for ourselves.So we can do PMMA+sensor glass/sensor film film,Glass+sensor glass/sensor film film structure.We provide solution suggest,electronic design,software debugging,customized service and so on.Our sales and engineer team all have more than 5 years works experience in this area. Our product being use to in many applications,like industrial control,home automation,medical device,vending machine,Pos machine,electronics Charger station device and so on.
Here are some of our standard touch screen with COB solution( touch screen with controller board) , cilck the items you like as follow:
| | | | | | | |
| --- | --- | --- | --- | --- | --- | --- |
| Size | Structure | Outline Dimension(mm) | Viewing Area(mm) | Interface | Chip | |
| 10.1 | G+G | 249.80X159.80 | 216.96X135.60 | I2C/USB/RS232 | ILITEK/EETI | |
| 10.4 | G+G | 259.10X206.30 | 213.10X160.30 | I2C/USB/RS232 | ILITEK/EETI | |
| 12.1 | G+G | 293X237 | 246X184.50 | I2C/USB/RS232 | ILITEK/EETI | |
| 13.3 | G+G | 334X211 | 293X165 | USB | ILITEK | |
| 15 | G+G | 344X268 | 304X228 | I2C/USB/RS232 | ILITEK/EETI | |
| 15.6 | G+G | 384X237 | 345.50X195 | I2C/USB/RS232 | ILITEK/EETI | |
| 17 | G+G | 378X315 | 338.92X271.34 | I2C/USB/RS232 | ILITEK/EETI | |
| 18.5 | G+G | 456.50X276.50 | 410.50X230.50 | I2C/USB/RS232 | ILITEK/EETI | |
| 19 | G+G | 418X348 | 377.32X302.06 | I2C/USB/RS232 | ILITEK/EETI | |
| 21.5 | G+G | 524X328.10 | 478X269.80 | I2C/USB/RS232 | ILITEK/EETI | |
| 23.6 | G+G | 575.50X358 | 523.30X295.20 | I2C/USB/RS232 | ILITEK/EETI | |
| 23.8 | G+G | 567.21X345.20 | 527.04X296.46 | I2C/USB/RS232 | ILITEK/EETI | |
| 27 | G+G | 658X416 | 598X336 | I2C/USB/RS232 | ILITEK/EETI | |
| 32 | G+G | 745.10X439.70 | 698.70X393.30 | I2C/USB/RS232 | ILITEK/EETI | |
| 43 | G+G | 1003.70X591.90 | 943.20X531.40 | I2C/USB/RS232 | ILITEK/EETI | |
| 55 | G+G | 1276.40X746.84 | 1211.60X682.40 | I2C/USB/RS232 | ILITEK/EETI | |
| 65 | G+G | 1489.70X868 | 1429.30X804.90 | I2C/USB/RS232 | EETI | |
If you need more COF (chip on the FPC solution),please click here COF PCAP capacitive touch screen Or contact with us directly: sales@szdingtouch.com