Do you think using smart mirror touch screen is a good idea?
Do you think using smart mirror touch screen is a good idea

?
In our era of rapid technological development, now many smart devices have slowly been installed with touch screens, allowing consumers to have a deeper technological experience with touch devices.Most of our equipment will be equipped with a transparent capacitive touch screen, the main function is touch. So what kind of technology is smart mirror touch screen that has become popular recently?
How does the smart mirror touch screen technology work?
It is mainly composed of optical glass panels. The size of these panels can be customized to make the specifications you want, and then the edges need to be polished and toughened. It is mainly placed on the front of the LCD or LED display screen and used as a touch screen. In fact, the working principle of the smart mirror capacitive touch screen is the same as that of the capacitive touch screen, but the technical processing of the cover is different.So how is the smart mirror touch screen made? In fact, it is necessary to apply a layer of film behind an ordinary mirror, so that the light can be reflected back to the observer, so that you can see your own image in the mirror.
When the smart mirror touch screen is finished, it can be installed on the display. It is applied to individuals, and you can choose to install it on a smart TV. Any function of it is the same as a standard TV, except that you can use it as a mirror when it is turned off. If it is used in a commercial environment, you can choose to install it on an LCD or LED display. The realization of touch of our smart mirror capacitive touch screen is very simple, if you are a window system, it is driver-free. If it is a Linux or Android system, we can provide driver information, you only need to download the driver information, you can operate the smart mirror touchscreen work.
Where will the smart mirror touch screen be used in our lives?
Retail store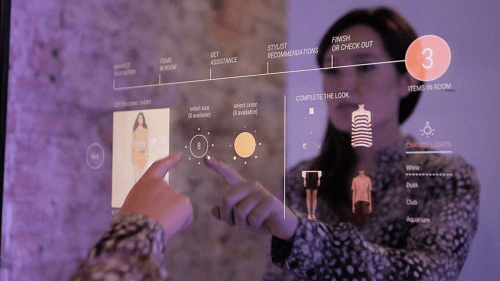 For a long time, consumers in fashion stores like to go to retail stores to try on clothes, and then try on good ones before buying, which has caused a laborious and laborious process for both consumers and waiters. However, if smart mirror capacitive touch screen devices can be installed in stores, they can be imposed on consumers by using virtual technology, which can accurately measure the body size information of consumers, and find real-time styles and inventory on the device to ensure consumers You can find satisfactory and favorite clothes in the store.
If the store can provide this kind of personalized shopping, it can be put in the hands of consumers by talking about the right of choice and control, which will greatly reduce the return rate of products, improve customer satisfaction and reduce a lot of overhead costs.
Cosmetic trial room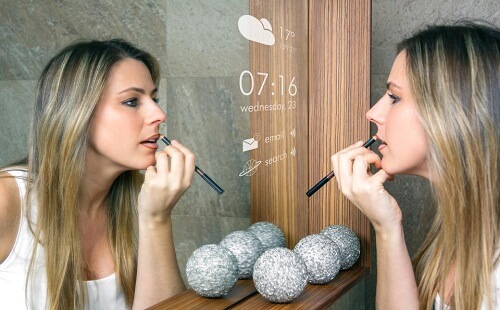 Women's skin care products and cosmetics consumption account for a large part of the market. If a smart mirror capacitive touch screen device can be installed in the trial room, I believe it can also provide consumers with an innovative experience. For example, when buying lipstick, the smart mirror touch screen can provide the most suitable slogan color number according to the skin color of consumers. Consumers choose their favorite styles according to their own preferences, and then use them in trial outfits. Let consumers experience the high-tech feeling in ordinary shopping.

Hair salon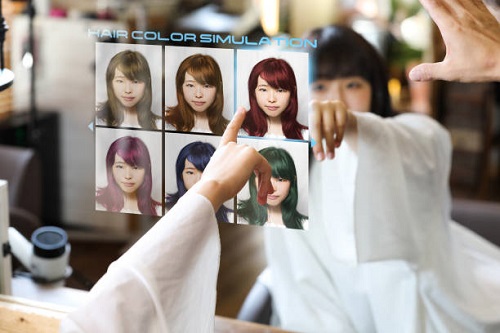 Smart Mirror touch screens are becoming more and more popular in hair salons. Now, in this fashionable age, more and more people are willing to spend more money to change and maintain their hairstyles. This will mean that they are also willing to spend a lot of time in the hair salon. If a smart mirror touch screen device can be installed in a hair salon, what benefits will it bring? First of all, I would like to ask, do you sometimes feel very depressed after cutting your hair? Because we all feel that the barber is always unable to cut us a satisfactory hair according to our needs. Although they will explain that they understand our needs, the result is still a bit disappointing. But if there is a smart mirror touch screen device, people can first show the consumer's face contour through the face contour collection technology, and then it will provide a variety of different hair styles for consumers to choose, and then let the hair stylist follow The selected hair styling is used for trimming. This will greatly improve customer satisfaction.
Hotel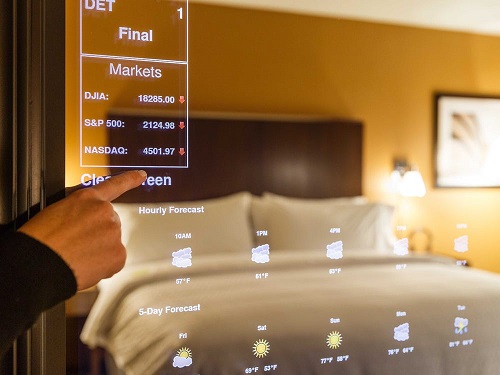 Smart Mirror touch screens are now slowly becoming popular in hotels. Because this is also to reflect the hotel's fashion and technological design, use this bright spot to attract more people to experience. Because when people wake up to wash, they can watch the news while washing or skin care and make-up, or find the information they want. This is very convenient for customers, and it is also a very technological experience.
Why Choose Dingtouch Pcap touch screen manufacturer?
We are Pcap touchscreen manufacturer who have more than 10 years industry experience.We produce Pcap touch screen/sensor glass/sensor film/,highly welcome to customized your pcap touch screen. What's more ,Our sales Our and engineering teams have at least 5 years of work experience in the touch screen field. So please trust us ,we will give you the suitable solution for your every project.And Our pcap touch screen panel mainly apply in industry control systems,medical device, vending machine,automation ,POS machine and so on.So If you have any project need to customized touch screen panel. Come on! Contact us!
So If you have any project need to customized touch screen panel.
Please Click HERE TO REQUEST A QUOTATION
Or contact with us directly: sales@szdingtouch.com