Will Touch Screen Help Education in the Future?
Will Touch Screen Help Education in the Future?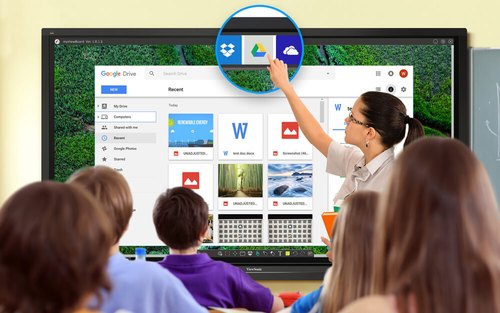 We are experiencing a sudden disaster by COVID by 2020.Until now, there are still many countries where the number of people infected with still increasing.But some of these countries also are recovering everything.Almost all of our lives have been affected by COVID, such as education. As a result, many students cannot go to school as usual. So we should think about the future of education, if there will be unexpected disasters in the future and everyone can not go out, then how should students study normally?At the beginning of the spread of COVID, we all hoped that this condition could be brought under control as soon as possible, but this virus was too powerful. Let us all have to stay at home. I remember almost staying at home for more than two months and almost never going out every day. We will see a lot of information on the news everyday at home. This information has to make us think about whether there are new ways of education to adapt to the current situation.About education,everyone is adapted to face-to-face education, because this is an education method of ancient times for the present. Because there are no big external factors that force us to change this traditional way of education.But now some of them will choose be about to combine distance between face to face education,and other that will opt for just distance learning education.
There have there most common ways of education:
Face to Face education
The number of students in very class room is the same.It is necessary to ensure the necessary distance between students and teachers.So it must be to reduce the number of students in the class.The capability to interact with each desk with the rest of the attendees is very important,otherwise , students will feel this class very boring and then loose the interest to learn.Also it needed to ensure the secure distance and minimize the risk of contamination. A touchscreen device can help to ease interactivity between teacher and students, with the content sharing from the main device with touchscreen to the students' and vice versa. Otherwise,students and teacher need to be clean their hand frequently.Our touch screen also can support capacitive stylus.why not give everyone one pieces of capacitive stylus to avoid this problem?
Blended learning education
They sometime will choose face to face to learn ,sometime will distance learning with others.So will reduce the number of students at the same time to learn.But they still learning together.No matter they learn in the classroom or distance learning, they all need the touch screen device to connect with them together.When the student can see the teach how to teach them in the touch screen device, they will more focus on learning and will more participate in the class.
Distance learning education
Many organizations are opting for these kind of lectures because it is very convenience.If it is not the face to face education,maybe the student will lack of interest.So in order to make lectures like the face to face learning,will share information by the touch screen device.And the student can participate if they have any question on the class.Like in the past one year,many schools had already choose this distance learning education in order to avoid to getting together to study.
Future is hard to predict,but with the development of technology, It is a must that to change into interactive lessons by touch screen device,we need to have a necessary device to interact with the students to make the difference. As a professional touch screen manufacturer.Our PCAP touch screen can be used in your any device,can support android,windows,Linux operating systems.Also if you need touch screen can support stylus touch,we also can do it.This is very easy to us.Change magic and smarter device apply in education,let students grow up happily in a high tech learning environment.If you have any inquiry or need know more information,please contact with us : sales@szdingtouch.com